2017 has been a fantastic year for Blickshift! After three years in the making we brought the most advanced eye tracking analysis software to the market. In parallel, we made the metamorphose from being scientists to being a successful company. But at first, let's have a look on the highlights of 2017.
The year 2017 has started with a fantastic show at the Start-Up-Autobahn expo day event. During this event, we have presented Blickshift in front of more than 1.000 engineers, managers and start up people from the automotive sector.
Our own booth at the CeBIT as part of the common booth of
bw-i
and the
University of Stuttgart
was the next higlight in March. During one week, we have generated more than hundred leads! After more than three years of development, we also have presented the first official release of
Blickshift Analytics
to the public!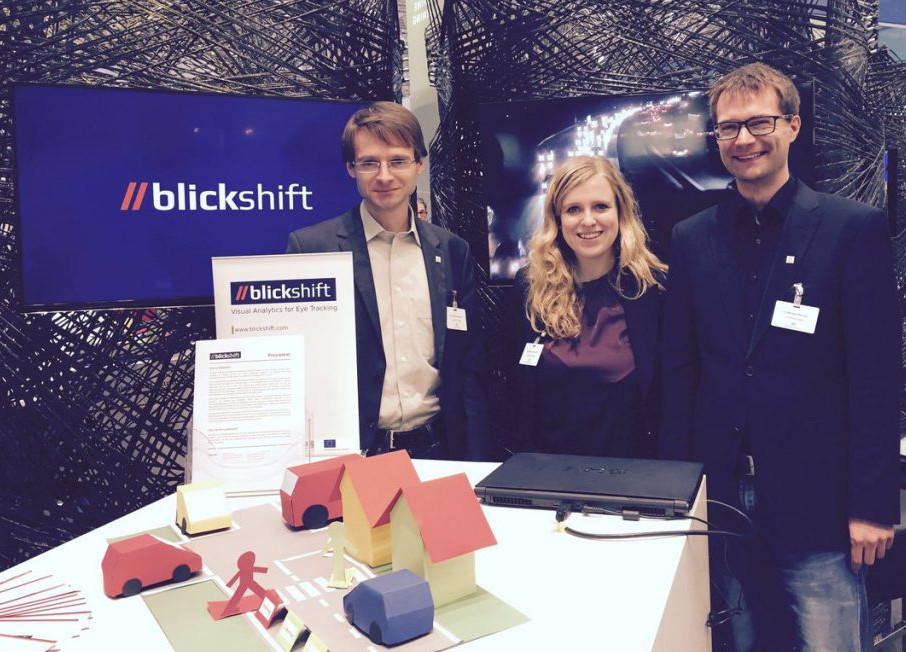 At the end of March, Michael gave an inspiring
talk at the Accenture InnovationForum
in Munich, the pre-event of the
Deutscher Innovationspreis
. In May, we have been at the
A2A Symposium
of Gigatronic, in July at the
EDM Forum of Daimler AG
in Stuttgart. During a side event of the European Conference of Visual Perception in August, Michael gave a talk about
eye tracking analysis beyond heat maps and scan paths
. In parallel, we were guests at many start up events and local industry events in Stuttgart.
During summer, we reorganized and improved our sales. One important part of our sales philosophy is the cooperation with partners. During the first half of 2018, there will be exciting news about our future partnerships! In early summer, we then have aquired our first customer, a big supplier in the automotive industry. More customers followed during the second half of the year. Blickshift Analytics became better and better by many updates. We completely reworked our website to show all the new possibilities for our users in the industry and academia. Media frequently has reported about our young company.
We are entering 2018 with a high speed.
Important milestones will be the next updates of Blickshift Analytics. We have many exciting new features in our development pipeline, which we absolutely want to share with you! Presentations and many events and conferences will complete our milestone plan. After bringing the most advanced eye tracking analysis solution from science to the market, the major goal of 2018 will be to establish Blickshift Analytics as the world leading standard for a professional eye tracking analysis and the number one tool for the development of eye tracking-based technologies.
To be continued 😉