Application fields of Blickshift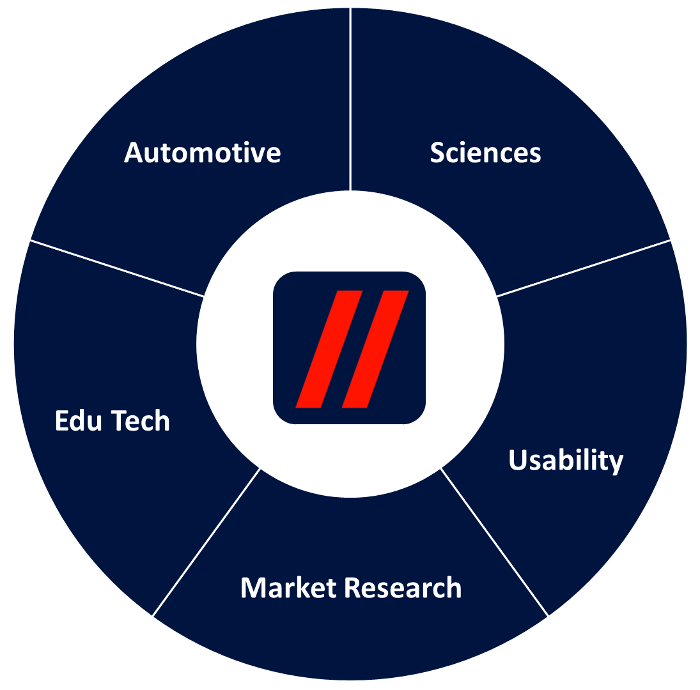 Automotive
Evaluation Experiments
Analysis of Driving Experiments
(in Simulators and Real World Driving)
Development of Driver Assistant Systems
Analysis and Optimization of Driving Experience
Usability Testing
Automatic Driving
Evaluation Experiments
Sciences
User Studies in Visualization Research,
Human Factors, HCI and many others
Perception Experiments
Cognitive Modeling
Psychological Experiments
Engineering
Virtual and Augmented Reality
Usability
Human-computer interaction
Human-machine interaction
Optimization of touch screens
Ergonomics of visual interfaces
Assistants for human-machine interaction
Ubiquitous computer environments
Analysis of interaction between users
Market research
Studies for Optimizing Web Shops and eCommerce experience
Web Usability Tests (AB Testing)
Retail Shop Optimization
Packaging Design Studies
Advertising
Brochure Improvement
UX and Usability of Apps
Edu Tech
Optimization of teaching concepts
Visual perception and cognitive processing of mathematical equations
Reading of music note sheets
Analysis of socio cognitive processes
Automotive
Evaluation Experiments
Analysis of Driving Experiments
(in Simulators and Real World Driving)
Development of Driver Assistant Systems
Analysis and Optimization of Driving Experience
Usability Testing
Automatic Driving
Evaluation Experiments
Sciences
User Studies in Visualization Research,
Human Factors, HCI and many others
Perception Experiments
Cognitive Modeling
Psychological Experiments
Engineering
Virtual and Augmented Reality
Usability
Human-computer interaction
Human-machine interaction
Optimization of touch screens
Ergonomics of visual interfaces
Assistants for human-machine interaction
Ubiquitous computer environments
Analysis of interaction between users
Market research
Studies for Optimizing Web Shops and eCommerce experience
Web Usability Tests (AB Testing)
Retail Shop Optimization
Packaging Design Studies
Advertising
Brochure Improvement
UX and Usability of Apps
Edu Tech
Optimization of teaching concepts
Visual perception and cognitive processing of mathematical equations
Reading of music note sheets
Analysis of socio cognitive processes
Search for similar eye movements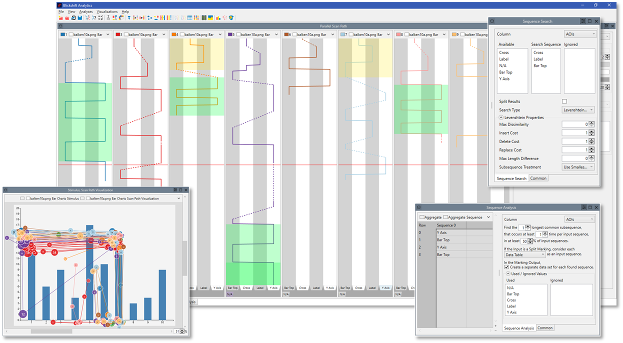 One of the great challenges in analyzing eye tracking experiments is the search for similar eye movements. Blickshift Analytics offers two unique solutions: With an automatic search process our software identifies typical eye movements on an AOI basis. In addition to the automatic search, a sequence search gives you the possibility to search for exact defined scan path patterns or similar eye movements.
Automotive: Efficient overview of your user experiment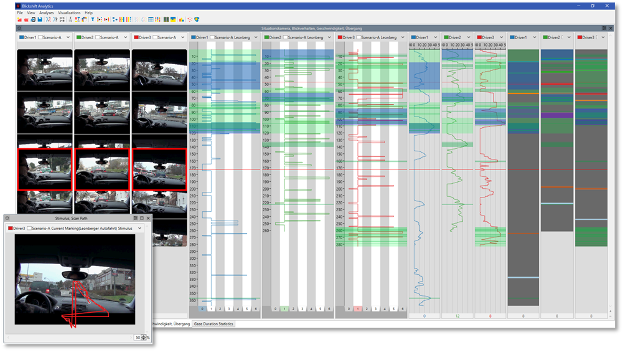 One of the great challenges in analyzing driver experiments is the data complexity. With our solution Blickshift Analytics you can analyze this data with an previously unknown efficiency. You get an efficient overview about your data, you can find quickly relevant time sections and identify participants with a similiar eye movement and driving behaviour. Analysis tasks, which required a time effort of days or weeks in the past, can now be done within a few hours!
Correlation analysis of sensor data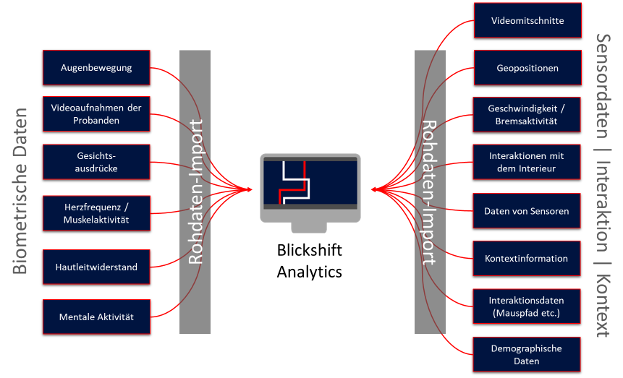 In many eye tracking experiments not only eye movements have been recorded, but also biometric values like galvanic skin response or heart rate frequencies. In Blickshift Analytics you can import all these data channels together. Next, you analyze all information together to find correlations between eye movements and physiological data and other sensors.
Erzeugung von Trainingsmengen für die Entwicklung von KI-Algorithmen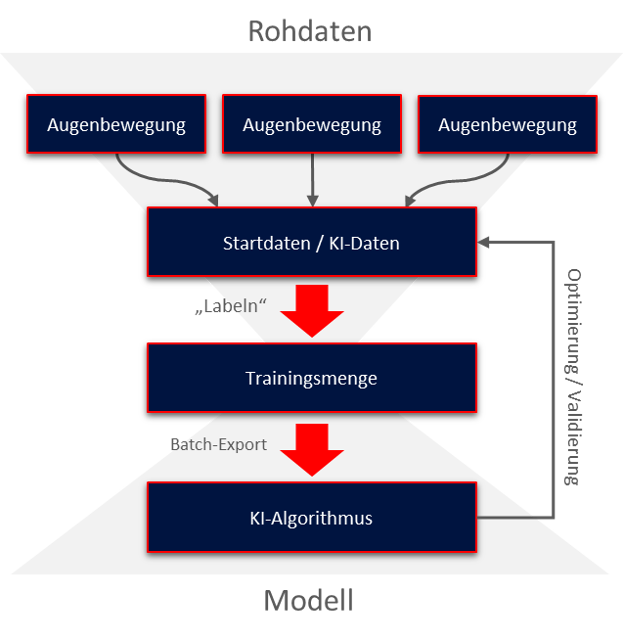 Die Vielzahl heutiger KI-Algorithmen lernen auf Basis von manuell oder semiautomatisch erzeugten Trainingsmengen.
Blickshift Analytics bietet für die Erzeugung von Trainingsmengen auf Basis von Zeitreihendaten eine der effizientesten Lösungen am Markt. Dabei besticht der Workflow durch Einfachheit. Sie markieren Abschnitte in Ihren Daten, weisen diesen passende Labels zu und exportieren diese Label mit den dazu gehörenden Sensor- und Blickdaten als Trainingsmenge. Dazu stehen Ihnen zwei Modi zur Verfügung: die manuelle Markierung einzelner Abschnitte oder der Einsatz von automatischen Komponenten.