It all began in the year 2009 when the Blickshift team started to work on eye tracking analysis. In this year we began to perform large eye tracking experiments in visualization research at the Institute for Visualization and Interactive Systems of the University of Stuttgart with more than thirty participants. One important research question was to analyze, if there are common eye movement patterns when people are reading visualizations.
In a first experiment we have recorded 2.700 scan paths. The goal was to analyze these scan paths with heat maps and scan path visualization. However, we quickly came to the conclusion that this was not possible with the state of the art visualizations (see our blog article about thinking beyond heat maps and scan paths). A completely new solution was needed. Thus, we decided to develop new analysis techniques for eye tracking data at the institute.
Finally, in 2012 we have published first results for visualizing eye movements at the Eye Tracking Research and Application Symposium in Santa Barbara in USA, one of the world-wide known scientific conferences in eye tracking research. Since this year, many publications followed, making the Stuttgart group one of the world wide experts for eye tracking visualization.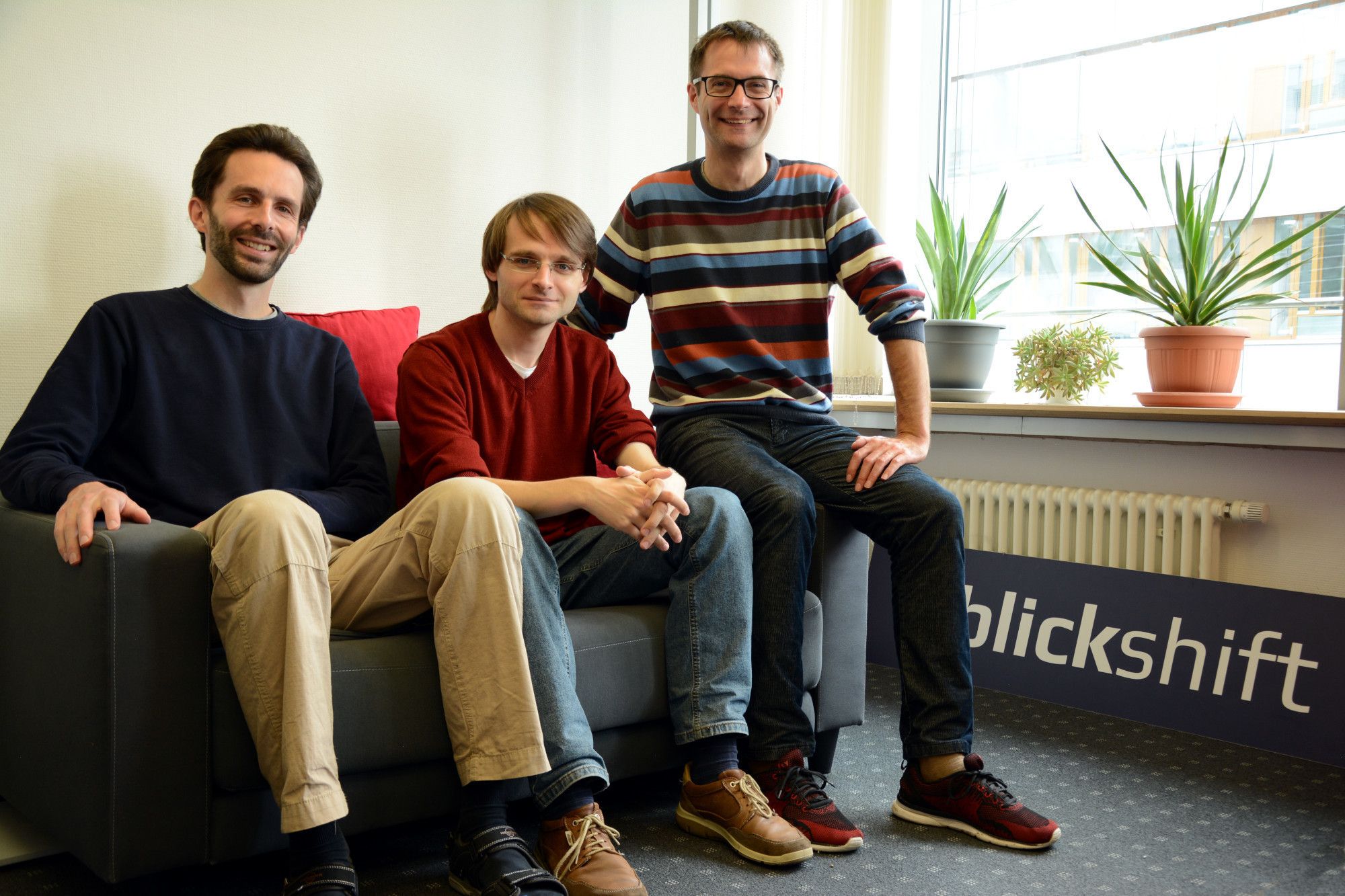 In parallel, we started the preparation of founding a spin-off in 2014. The goal of the new company was to transfer our latest results from science into commercial products, enabling eye tracking researchers all over the world to analyze eye movements with an efficient software tool finding new insights in their data. In spring 2014, the feedback of our first pitches in Silicon Valley showed us the huge potential of our idea. Additionally, we stayed in touch with our future users in industry and sciences, to design our software really customer-oriented and with lots of features needed for an efficient eye-tracking analysis.
At the beginning of 2016 we moved from the University to CODE_n SPACES. In this co-working space we could develop our business model further and learn to improve our sales process, which is very important for a scientific-based founded company! At the newNew festival of CODE_n we could aquire our first customer, one of the biggest suppliers in automotive industry.
Dr. Bernhard Schmitz
studied Software Engineering at the University of Stuttgart. From 2008 to 2014 he was researcher at the VIS. In 2015 he finished his work on this PhD thesis about navigation systems for special user groups. At Blickshift Bernhard Schmitz takes the responsibility for application development.
Dr. Michael Raschke
studied Physics at the University of Stuttgart and University of Heidelberg. From 2009 to 2015 he was researcher at the VIS and developed new methods and technologies for the evaluation of visualizations. He is a world-wide known expert for the visualization-based analysis of eye tracking data, author and co-author of more than 40 publications in the fields eye tracking analysis, visual analytics and human-computer interaction. Together with Michael Wörner Michael Raschke is CEO of Blickshift.
Prof. Dr. Thomas Ertl
is since 1999 a full professor of computer science at the University of Stuttgart in the Institute for Visualization and Interactive Systems Institute (VIS) and director of the Visualization Research Center of the University of Stuttgart (VISUS). Thomas Ertl is coauthor of more than 500 scientific publications and he served as a reviewer for most of the conferences and journals in the field. He has been a member of numerous program committees (e.g. Eurographics, ACM SIGGRAPH, IEEE VIS) and a papers co-chair for several conferences (e.g. Eurographics, IEEE Visualization, EuroVIS, PacificVis). Since 2015 he serves as Vice President of Research and Advanced Graduate Education of the University of Stuttgart.
Dr.-Ing. Michael Wörner
studied Software Engineering at the University of Stuttgart from 2001 to 2008. From 2008 to 2014 he first worked as a researcher funded by the Graduate School Advanced Manufacturing Engineering (GSaME), then as a researcher at the VIS. In 2014 he finished his work on his PhD thesis about Visual analytics for production and transportation systems. Michael Wörner is expert for the development of pattern recognition methods for large data sets. Together with Michael Raschke he is CEO of Blickshift and responsible for project management.